Matthew S. Quay - Political Machinist?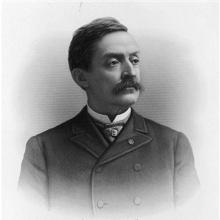 Quay County is named for Matthew S. Quay, a distinguished Civil War veteran and U.S. Senator from Pennsylvania. Quay was a leading proponent in Congress for New Mexico statehood. In 1903, when a new county was created in the territory, enthusiasm ran high for Quay and a resolution was drawn up by its residents and sent to Governor Otero. Quay was invited to a special ceremony in Santa Fe later that year, but he never responded, possibly because he was ill; he died the following year.

That all sounds well and good, but Quay was something of a scoundrel, serving the political "machine" of the Republican Party in Pennsylvania. He was such a purveyor of corruptive power that his particular application of it was known as "Quayism" during his life. It is like you are willing to deal with the devil to get something accomplished and that was the activity for which Quay was known. The fact that New Mexico statehood was something for which he was willing to apply Quayism and the residents of Quay County wanted to honor him for that work is interesting.